Last Mars Tower is a new TD game where you need to prevent all humans from reaching and invading the planet Mars. Read more details for Last Mars Tower.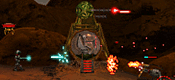 Ever since humans overpopulated the planet Earth, they untiringly were invading all space planets, hoping the perfect one they can conquer and populate on. That perfect one was none else but the hostile planet of Mars! Take control of the Marsian side and stand against the humans attack by using the Last Mars Tower defense!
Watch Last Mars Tower official trailer:
Watch Last Mars Tower walkthrough and gameplay:
Have fun the following weekend and be sure to be nice with all aliens, no matter which planet they came from.