Glissaria is new type of tower defense game enchanted with RPG elements mixed up in a combination with puzzle match (bejeweled) gameplay. Read more details for Glissaria.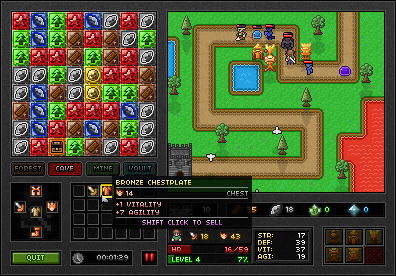 Strange, but not first of a kind, game combination of tactical Tower Defense game and
puzzle-Match up (Bejeweled style) gameplay and all enchanted with RPG playing elements.
Help Prince Trey to defend his father's kingdom, the Northern quadrant of Glissaria from the countless invasion of monster waves. Obtain resources by matching five or more of them in Bejeweled style which can be used to build and upgrade towers, or to gather magical gems to power up your towers. You can even collect and equip weapon and armor itmes to your hero. Protect your Kingdom at all costs!