All We Need Is Brain 2 comes out this Thursday and will be playable at its creator site NotDoppler. Read more details for All We Need Is Brain 2 and watch the full video walkthrough.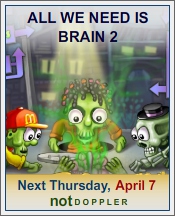 Strategically place those tasty green brains and lure the zombies to their death! Drop some smelly brains and watch the undead how they raise out from their own graves following the sweet stench… And then dispose of them!
This second time around, you'll be given new weapons at your disposal, more features to enhance the gameplay and more level!
Watch the All We Need Is Brain 2 video walkthrough:
All We Need Is Brain 2 video walkthrough Levels 1-11
All We Need Is Brain 2 video walkthrough Levels 12-25